Agile Digital Service Design
A fusion of Agile Development and Digital Service Design best practices.
Gov.uk introduces the relationship between Agile practices and government service design and delivery, and their service manual documents a complete How To blueprint, from Writing User Stories, as well as Digital Service and Supplier standards.
This is all part of a portfolio of recommended practices for public sector agencies seeking to deliver new Digital Services.
User journeys and service modeling
The most notable feature is harnessing Agile principles to expand the scope beyond just software development, to encompass the defining agenda of Service Design. x writes about how this must also include Procurement.
For example this includes utilizing Agile Product Ownership principles to treat Digital Government Services as specific products to manage using those principles and importantly tools for doing so. GDS describes service modelling, and as they discuss on this blog, bring key practices to bear such as Product Roadmapping.
Toolchain
In the DevOps world this combination of tools used to achieve an end to end workflow is called a 'toolchain', often featuring use of apps such as Github and Jenkins, to better automate the processes of Continuous Integration.
This same toolchain can be extended further upstream to also capture and manage User Requirements et al, and so a complete lifecycle is possible, from initial business and user need right through the software deployment required to meet that need.
For example the GDS Publishing team uses Trello for managing their team work, enabling them to implement 'Kanban' techniques.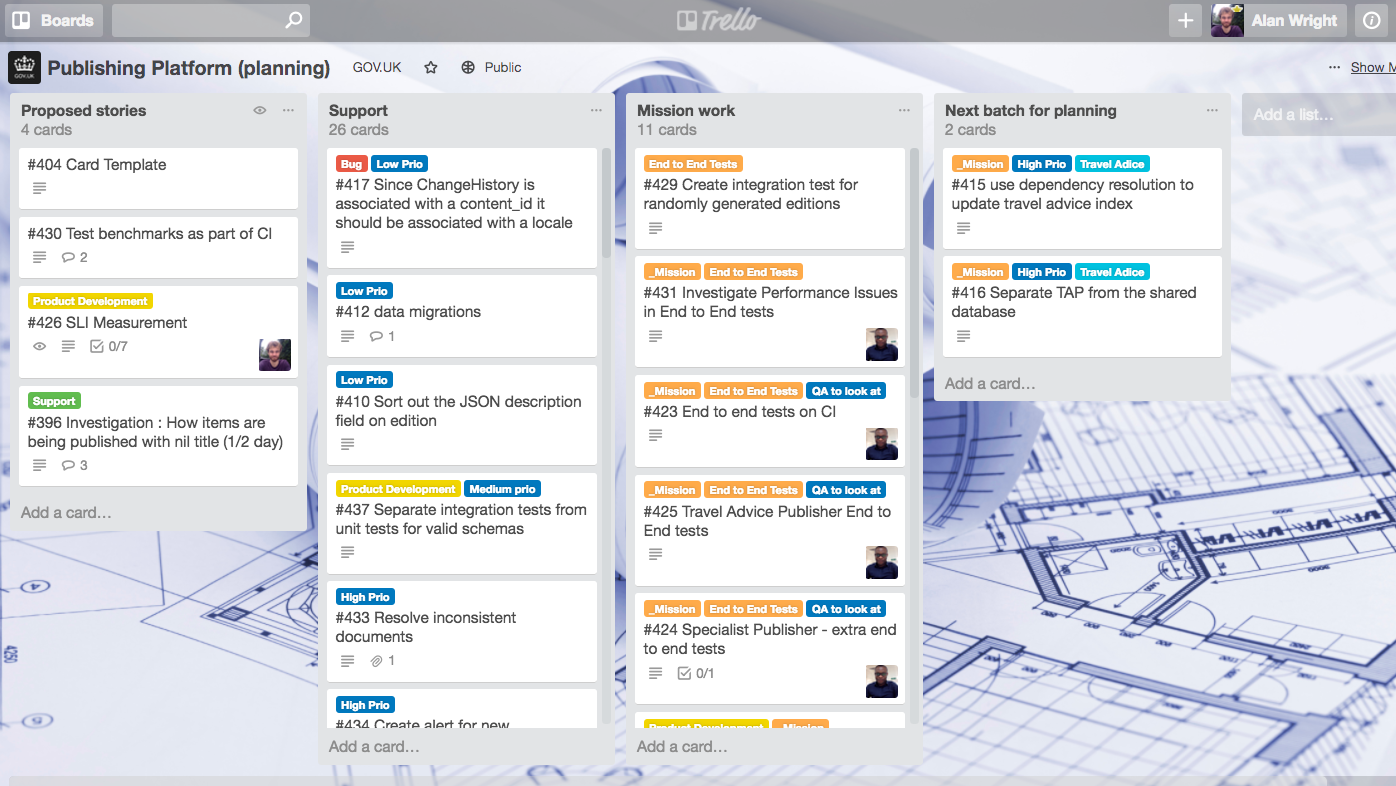 Linking Business and IT
Expanding the scope of an integrated toolset enables the essential dynamic of better 'Business/IT Alignment'. Product Roadmapping tools enable Features to be rolled up into packages of deployments themselves then organized around major Strategies and Goals. Ie. What should be articulated by the senior executive team and then used to prioritize all downstream feature resourcing and planning.
Alpha Projects

This is best achieved by a two-way feedback process of both bottom up and top down business model design, in particular through utilizing Agile principles for quick prototyping, through 'Alpha Projects', exercises that bridge Discovery and Alpha phases, that are inherently creative and solution design oriented, while also methodical in gathering and systematically organizing User Requirements with a view to quick prototype delivery of them.
A key function of the group is also to pioneer new innovations, through well researched and defined solution approaches, particularly reusing best practices from other high profile success stories. These can be conceptualized and developed as community 'alpha' projects, defining their early stage in the overall evolution of a digital service lifecycle. Validated ideas can then be progressed into a full Digital Squad implementation.
A $14 per person per identity proof process, reduced to $0 – Cash sent straight to money card
Further cost reductions through eliminating duplicated, manual paper-based and reducing office visits
Better service to users and improved digital service usage
---
Video Library
#Sprint16 Periscope How to be agile in a non-agile world